Macon, GA: Cassie (Great Pyrenees labeled Chow)
Macon Animal Shelter - 9:30 am March 2, 2009
Myshea Robinson tells of the experience she had at the Macon Animal Shelter on March 2, 2009, including the aftermath of the events she recounts. Cassie is the name of the Great Pyrenees that is the focus of her story. She refers to "Nathan," the Animal Control Officer Nathan Millwood (who also assisted Kathy Selbrede with Maggie). "Jim" refers to Jim Johnson, the director of the Macon Animal Shelter.
Cassie was soaked, and to make matters worse the back door to the shelter ward she was in was open with ice still on the ground outside from it snowing the day before. (All dogs and pens were wet.)

Her eyes were sunk back into her head. She was visibly sick. She was in the same pen with more than four other dogs, one visibly starved. She was the smallest one in the cage. I asked Nathan if we could take Cassie and he asked us to please try because she was very sick. We asked at the front desk if we could take her but Jim Johnson, the Shelter Director, was not there to give his approval and we were told her seven-day hold time (required by law for all strays brought into the shelter) was not up yet. Jason and I had to ask if we could bring medicine back to help her. We left the shelter and immediately went home to grab antibiotics, dewormer, and Nutrical. We went back to the shelter and administered the medicine and vitamin supplements to Cassie. It was very hard leaving her there.

Later that afternoon we went back to the shelter again to pick up rescue dogs that we were taking to the vet and Cassie was laying down on the wet, cold floor very sick. I went up to the front desk and asked if we could take her and again was told her time was not up. That's when I started begging. Jim Johnson did let us take her but we were told we could not do anything with her until her hold time was up because her owners might show up.

I had to ask for a towel to clean Cassie up and put her in the car. She stayed two days at the vet with a stomach virus and a bacterial infection in her left front paw that resulted in her losing her second toe. She now has to go to the vet every other day to have her bandage changed in hopes that she can regenerate new tissue and not lose her paw completely. Every day her foster mom has to give her strong antibiotics and scrub the three uninfected paws with an antibacterial surgical scrub.

The vet also told us that Cassie may never be able to bend her paw and will probably have a continuous limp.

This little girl is very lucky to be alive.
PHOTO BELOW: Myshea's daughter holding Cassie. Notice the swollen infected paw.
PHOTO BELOW: Close-up of Cassie's paw. How many other dogs go untreated at the Macon Animal Shelter?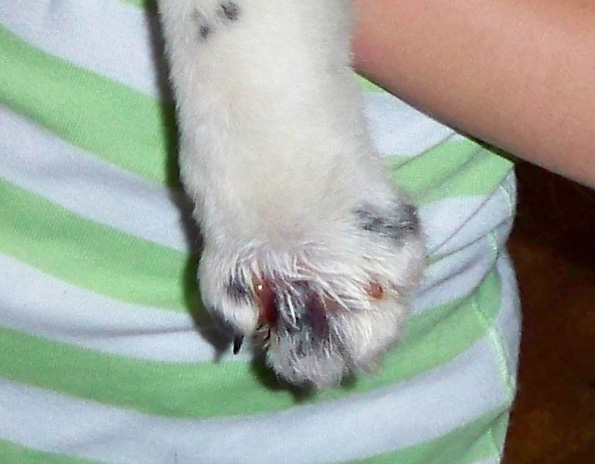 Help us document what happens at your local animal shelter. If nobody comes forward to share what goes on there, the animals will continue to be the victims.

Kathy comments on Cassie's case:
Here again is an example of why the Macon Animal Shelter's website does not tell the truth.
Again, Macon's website states: "The Macon Animal Control Division has a responsibility to assure that pets and people live together in safety and harmony - and that ALL pets receive proper care, including veterinarian care and housing."

The Shelter claims to care for and tend responsibly to "ALL" animals. Does the dog in the pictures look like it received proper veterinarian care and housing prior to being extracted from the facility by Myshea and Jason? Even Animal Control Officer Nathan Millwood recognized that city policies were working against this animal.
I've been unable to sleep since I visited the Macon Animal Shelter not only because of my new knowledge of Macon's gas chamber, but also because I have experienced the mistreatment of animals in in Macon, and I realize that it goes on in other shelters too.
Pray with me that more people like Myshea will come forward with boldness to help us promote compassionate, responsible care of God's creatures to our cities, starting with Macon, Georgia.