Shelter Reform is gratified to be able to focus on the positive while simultaneously working to correct serious problems within animal shelters. It is our intention that each subsequent year the cash prize presented with the Maggie Award will increase as the scope of our work increases and we see our mission fulfilled.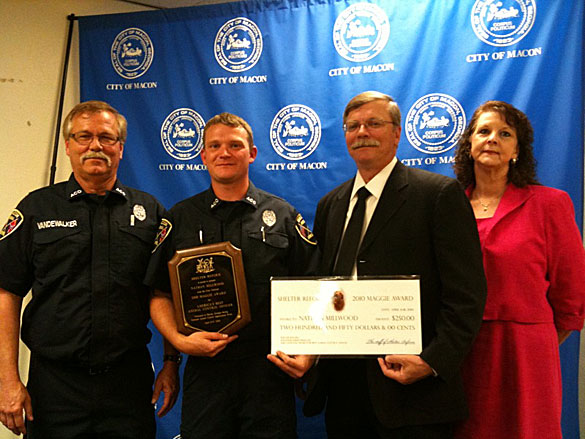 The recipient of the 2010 Maggie Award received a handsome commemorative plaque (see close-up at right), a decorative check extolling his achievement, a Bank of America cashier's check made out for $250.00, and Shelter Reform's letter of commendation to him (see the PDF of it here). We at Shelter Reform put our money where our mouth is in our earnest desire to emphasize positive contributions in the animal control world. [Photo above, left-to-right: Officer Ed Vandewalker, award winner Nathan Millwod, Shelter Director James Johnson, and Shelter Reform representative Tina Brown.]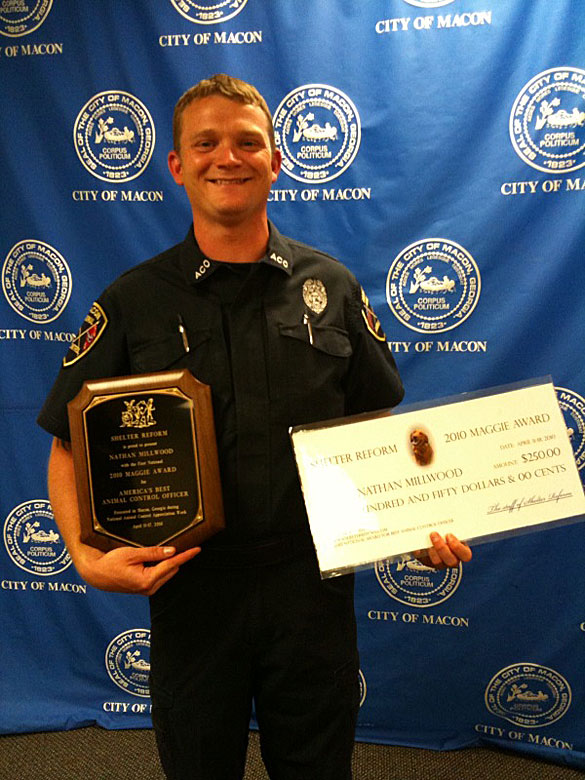 This year's winner is none other than Nathan Millwood, animal control officer in Macon, Georgia. Warmest congratulations, Officer Millwood! We hope your example becomes an inspiration to others!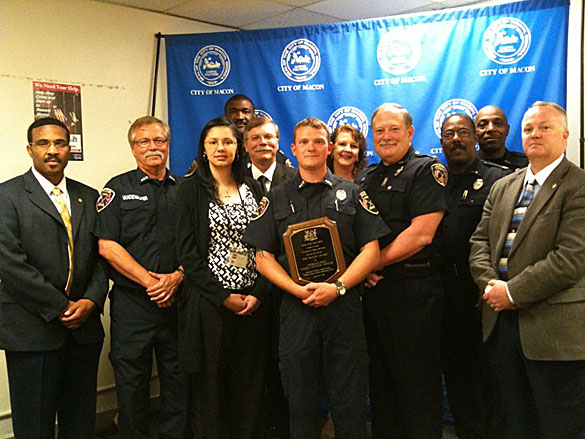 The city of Macon came out in force to celebrate Nathan Millwood's achievement: the room was filled with his peers and superiors. To Nathan's immediate right is Police Chief Mike Burns, who presented the award to Millwood. To his left is Erica Jackson, and at the far right is Captain Michael Schlageter. Along with Jami Gaudet, MPD's Public Information Officer (regrettably not shown), Ms. Jackson (Executive Director of Management Services for MPD) and Capt. Schlageter (head of MPD Internal Affairs) have taken a proactive stance in taking the Macon shelter to the next level. Shelter Reform is continuing to actively support and encourage these city officials in their sacrificial efforts on behalf of the animals at the Shelter.
---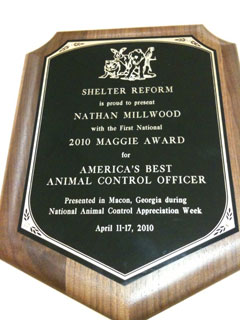 There were four finalists for this year's award, but it soon became clear to Shelter Reform researchers and staffers who should be the recipient of the 2010 award. This individual was acknowledged by many local rescuers and animal advocates in his city to be the standout among his peers in his genuine concern for the animals under his care, as well as in his exceptional service to the public. We at Shelter Reform have seen this aspect of his work in-person, but the long-term assessment by independent observers is what put this year's winner over the top.
The presentation of the award by Macon Police Chief Mike Burns was held at a press conference at 1:30 PM Thursday, April 15, 2010 in the Com Stat Room at Macon City Hall. MPD Public Information Officer Jami Gaudet helped coordinate the awards ceremony and helped preside over the ceremony, reading the entire text of the Award Letter. The major televison stations covered the press conference; Shelter Reform will be posting video of the awards ceremony in the next several weeks on this website.
The more media exposure such efforts receive, the brighter Officer Millwood's example will shine for others to emulate and catch his vision.